A
Variety of Sizes for All Applications
Reverse Osmosis for Industrial Applications
Designed by experts with over 40 years in the industrial market, Lockwood Filtration offers standard products ranging from 1,000 – 172,000 gallons per day and custom systems up to 350,000 gallon per day. Whether you need basic spot free rinse, or the highest quality water, Lockwood has the solution for you.
Highest Quality Components with Lowest Maintenance Costs
• Lockwood RO's are equipped with the highest quality pumps in the industry. Grundfos ML motors have the highest energy efficiency rating world-wide.
• Membranes remove up to 99% of dissolved solids, bacteria and viruses.
• Rust free powder coated aluminum frame to keep the system looking new year after year
Minimal Installation, Start Up and Service
• Every system is factory tested assuring that when it arrives at your location, it's ready for installation and start up.
• Totally pre-assembled with easy connections and a printed operation/instruction manual.
• Technical support is available 24/7.
Easy to Maintain With All the Features You Need
• Adjustable recirculation / reject recovery rates send less water down the drain.
• Controller with automatic membrane feed flush, alarms at high conductivity, and low feed pressure.
• Read outs for water temperature and hours of operation.
• Remote alarm available for monitoring up 100' feet away.
• Connections for Clean-In-Place.
Accessory Packages Available
• Anti-Scalant and Chlorine Destruct pretreatment to extend the life of the membrane.
• Automatic backwashing softeners and carbon filters.
• Electro-Deionizer for polishing the RO water to even higher quality.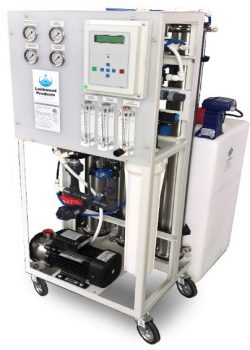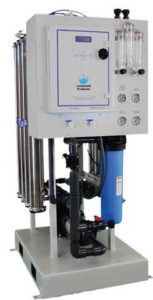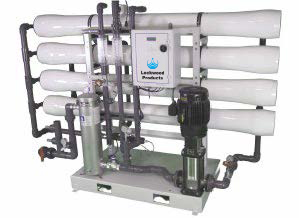 Polish your RO water to even higher quality!
Produce deionized water without the expense of chemicals, labor and service associated with DI exchange tanks.
Install after your reverse osmosis system to polish your up to 18 meg ohm quality.
Continuous process with no downtime
Automatically starts when your RO provides pressure 
LOCKWOOD EDI ELECTRO-DEIONIZER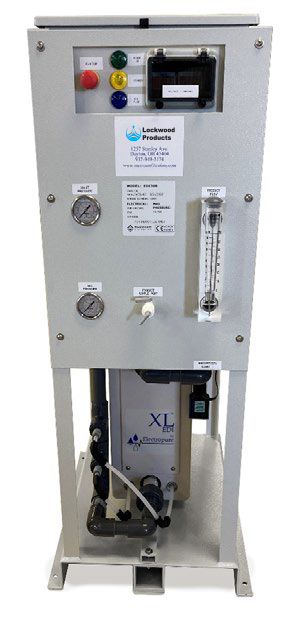 Reverse Osmosis Sizing Questionnaire